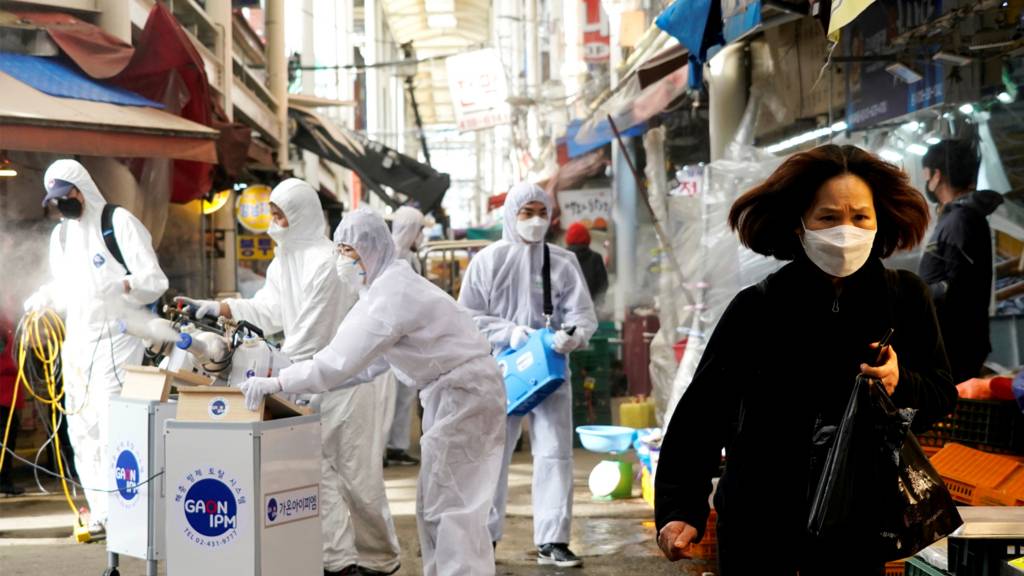 Got a TV Licence?
You need one to watch live TV on any channel or device, and BBC programmes on iPlayer. It's the law.
Live Reporting
By David Walker and Kathryn Snowdon
All times stated are UK
We are ending today's live coverage of the growing
coronavirus outbreak around the world. To recap:

At least 210 patients have died in Iran, health sources
have told BBC Persian, way above the official figure of 34. Iran denies
withholding information about the number of people infected
The World Health Organization has upgraded the global risk
from coronavirus to its highest level
A man who was on board the Diamond Princess cruise ship in Japan has become the first British person to die from the coronavirus
Stock markets around the world have fallen for a fifth
successive day

Coronavirus is top priority, says PM Johnson

AFPCopyright: AFP

UK Prime Minister Boris Johnson has said the coronavirus is the government's "top priority" and defended the decision not to repatriate people from quarantined cruise ship the Diamond Princess sooner.

He said the government had been following the "best medical advice" as he tried to reassure people that the NHS was making "every possible preparation".

His comments come after a British man who was on board the cruise ship died from the disease.

Mr Johnson said: "We were following the best medical advice. We very much regret the loss of life of the individual concerned but we think that the best thing to do is not to move people around too much in the current situation.

"Not to repatriate unless you can be absolutely sure there is not going to be a spread or contagion to this country – that's the principle we are adopting."

The PM is due to chair a meeting of the government's Cobra emergency committee on Monday in response to a growing number of cases in Europe.

How does this week's FTSE 100 fall compare to other drops?

BBCCopyright: BBC

Although UK shares have lost almost 13% of their value, this is not the worst week for the FTSE 100.

This chart shows how the latest FTSE 100 plunge compares to other drops since 2000.

Getty ImagesCopyright: Getty Images

"Please enter with masks and gloves for the safety of everyone", says the sign on a shop door in San Fiorano, one of the 11 northern Italian towns under lockdown to stop transmission of coronavirus.

The shop also asks that only four people enter at one time.

Italy has 650 confirmed cases and 17 deaths, mostly in the regions of Lombardy and Veneto.

Coronavirus fears for woman held in Iran jail

PA MediaCopyright: PA Media

Richard Ratcliffe, whose British-Iranian wife Nazanin is being held in an Iranian jail, says he fears she might be at risk of contracting the coronavirus as she wakes up shivering, has a severe sore throat and "a cold".

Mr Ratcliffe says conditions in the Evin prison in Tehran have been "worsening" over the past few months.

He told the i newspaper that a lack of medicine, disinfectant, bleach and antiseptic in prison shops had forced prisoners to depend on washing liquid to stay clean.

The UK's Foreign and Commonwealth Office has said it remains "extremely concerned" about Ms Zaghari-Ratcliffe's welfare.

Iran parliament closed 'until further notice'

As Iran reports rising numbers of coronavirus cases, its parliament has supsended its sessions "until further notice".

A parliamentary official quoted in Iran's Fars news agency said the decision was based on advice from the health ministry about "the outbreak and the risks it has".

The Iranian parliament, known as the Majlis, is also expected not to ratify the state budget for the Iranian new year starting 20 March and will instead pass a temporary emergency budget, the official said.

Breaking

Iran death toll could be as high as 210

At least 210 Covid-19 patients have died in Iran, sources within the country's health care system have told BBC Persian.

This figure, as of Thursday evening, is way above the official figure of 34.

The official figure for infected people is at 388 but many have challenged official figures.
Most victims are from the capital, Tehran, and the city of Qom where the Iranian outbreak started.

Iran's government has defended its response to the spread of the virus and denied it is withholding information about the number of people affected.

In case you have just joined us…

Here's a roundup of the latest developments:

The World Health Organization has upgraded the global risk from coronavirus to its highest level
A man who was on board the Diamond Princess cruise ship has become the first British person to die from the coronavirus, the Japanese government says
Tokyo's Disneyland and DisneySea are to close from Saturday until 15 March
Iceland has reported its first case
Stock markets around the world are experiencing major declines amid investor fears
Switzerland has cancelled all events involving more than 1,000 people, including the Geneva Car Show

Avoid kissing church icons, Romanians advised

Getty ImagesCopyright: Getty Images

Romania's Orthodox Church has advised worshippers not to kiss the icons in church to avoid transmitting

the coronavirus.

People can, however, kiss icons in their own homes, the church advises in a statement.

In addition,

worshippers "may exceptionally ask the priest" to use their own spoon for Holy Communion rather than

share one.

Anyone too ill to attend Mass is advised to drink holy water at home, the statement adds.

Geneva Motor Show packs up

People are packing up after The Geneva Motor Show was cancelled.

The decision to pull one of the biggest events in the auto industry calendar came after an order from the Swiss federal government, banning gatherings of more than 1000 people, in an effort to restrict the spread of the virus.

EPACopyright: EPA

EPACopyright: EPA

Entertainment industry hit hard

The entertainment industry has been significantly affected by the outbreak, with major acts pulling shows.

Green Day announced they would postpone their forthcoming Asian tour "due to the health and travel concerns with coronavirus"
Korean pop group BTS cancelled several live shows due to take place in April at the Olympic Stadium in Seoul
Other artists who have cancelled tour dates in Asia include UK grime star Stormzy, R&B singer Khalid and a-ha, who have cancelled their show in Singapore
Earlier this week, Brit Award-winning singer Mabel cancelled a scheduled show in Milan

AFPCopyright: AFP

Image caption: BTS said the cancellations were "unavoidable"

More imported cases in UK 'almost inevitable'

James Gallagher

Health and science correspondent, BBC News

The first death of a
Brit from the coronavirus is, sadly, not a surprise. This
outbreak has killed around 2,800 people, most of them in China.

As
the number of people infected with the virus increases, so too will the number
of deaths. That
is why attention continues to be on China, Italy, Iran, South Korea and Japan.

Each
of those countries still has full-blown outbreaks of the coronavirus and their
efforts to contain it will be crucial. Other
countries are already feeling the ripple effects of these outbreaks. The latest
cases in the UK are connected to either Iran or Italy.

For
now there is no coronavirus outbreak in the UK, but further imported cases are
almost inevitable for as long as other countries have large numbers of
infections

Tokyo Disneyland closes amid outbreak

Getty ImagesCopyright: Getty Images

Tokyo's Disneyland and DisneySea are to close from Saturday until 15 March amid the coronavirus

outbreak, operators said.

The decision to close the parks, which attract millions of visitors a year, follows government advice to

curtail large gatherings, Oriental Land Co Ltd said.

Osaka-based Universal Studios theme park also said it would close until 15 March.
Japan has had five deaths and more than 200 confirmed cases of the virus, as well as another 700 cases and five more deaths from the quarantined cruise ship Diamond Princess, docked in Yokohama.

First professional footballer reportedly infected

An Italian-Nigerian footballer has reportedly become the first professional player to be infected with the coronavirus.

King Paul Akpan Udoh, 22, who plays for Pianese in Serie C, was diagnosed on Thursday and has been quarantined, media outlets have reported.

He was once on the books of Italian giants Juventus before dropping to the country's third tier.

Footballers worried about the impact of coronavirus have been contacting unions "out of fear" they could be forced to play in "high-risk environments", according to global body Fifpro.

It said in a statement Fifro said there was a danger of football "acting as a vehicle to spread" the disease.

"Our talks with various football stakeholders also address the rescheduling of international dates, including but not limited to qualifying matches for this year's Tokyo Olympics and 2022 FIFA World Cup," Fifpro said.

AFC Champions League matches due to take place next week have already been rescheduled as a result of the growing outbreak.

Virus alert level 'at its highest'

Dr Mike Ryan, the WHO's director of health emergencies, has explained that the global risk level of "very high" is the highest alert the organisation can declare.

He said earlier that it would be "unhelpful" to declare a pandemic when the world was still trying to contain the virus.

"If we say there's a pandemic of coronavirus we're essentially accepting that every human on the planet will be exposed to that virus. The data does not support that as yet," he said.

Iceland confirms first case

We've just spoken to an official at Iceland's health directorate who confirmed that the country has recorded its first coronavirus case.

The official was not able to offer further details, but local media reports say the patient is a man in his 50s who had been in Italy.

The man is said to be showing "typical symptoms" of the virus, and is being kept in isolation.

Efforts are underway to find out who else might have been exposed to the virus.

Frontline staff need more protection – WHO

The World Health Organization is disappointed that it cannot provide more protective equipment to medical workers because of a global shortage, executive director Dr Michael Ryan told a news conference in Geneva.

European stock markets fall further

Getty ImagesCopyright: Getty Images

In London, the FTSE 100 index has dropped by another 4.3%, or by 290 points.

With one hour of trading left this week, it puts the blue-chip index on track for its lowest close since July 2016.

So what happens next?

Connor Campbell, financial analyst at Spreadex, said: "The weekend may provide time for heads to cool, and allow
investors to assess whether or not they want to re-enter the market at these
new lows – after all, from a certain perspective the market is now far more
approachable than when it was racing to all-time highs just last week.

"Of course, that is only if the next few days aren't
filled with round after round of alarming headlines. From a market perspective, an explosion of cases in the US would
likely be the most catastrophic turn the illness could take. Though that's not
to downplay the impact of the steadily increasing number of nations around the
world now seeing their first cases of the coronavirus, each new country pushing
us closer to a pandemic."

Dr Tedros said we don't need to wait for a vaccine though, as there are already ways to avoid catching and spreading the virus. Health experts across the world are asking people to wash their hands and catch coughs and sneezes.

According to the UK's NHS, the best way to prevent spread requires lots of soap and plenty of disposable tissues.

BBCCopyright: BBC

It's worth reminding ourselves of the symptoms of the coronavirus and the respiratory disease it causes, Covid-19.

Symptoms appear to begin with a raised temperature, followed by a dry cough – and then after a week. shortness of breath.

BBCCopyright: BBC

And finally, "self-isolation" is a phrase we're hearing a lot. The BBC's Joseph Lee has explained what it means and how to do it successfully.

WHO warns against assigning 'blame' for virus

The WHO's Executive Director Dr Michael J
Ryan says no individual country is to blame for the outbreak.

"It's really important that our rhetoric and narrative is
balanced" said Dr Ryan, adding that China was not responsible for
coronavirus, just as the Democratic Republic of Congo was not responsible for
Ebola.

He said stigma "had become part of the global narrative, which
is unhelpful".