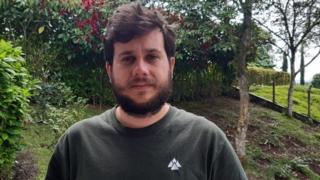 Miguel Fajardo, a coffee farmer in western Colombia, invested the last eight years attempting to rebuild his household's fortunes after his dad declared bankruptcy.
However he now fears he'll lose whatever as soon as again as his orders dry up in the wake of coronavirus.
" We're certainly scared, we do not know how things will advance," he states. "We will keep producing coffee however where are we going to offer it? That's the difficult question."
Need for coffee has actually skyrocketed in recent weeks, as customers stockpile basic materials from grocery stores. However, it is an extremely different image for more expensive speciality coffee, which is what Mr Fajardo produces.
Numerous farmers in Colombia's coffee belt currently live a precarious presence.
After spiralling debts and a wildly fluctuating coffee price drove Mr Fajardo's father into personal bankruptcy, the household was required to sell all their coffee farms.
' We never ever understand'
It was at that point that he turned to speciality coffee production, since it guarantees farmers like him a stable rate, agreed ahead of time. It enabled him to purchase a farm of his own.
If speciality purchasers vanish, he'll be required once again to offer his coffee directly into the product market, where prices can be really volatile.
" It's difficult to return back to commodity because with the uncertainty of cost, we will never ever understand if we will be able to invest in our farms, or in our families, or ultimately in education," Mr Fajardo says. "So it's just returning back to where we started."