There have been 299 new confirmed cases of coronavirus and two further deaths announced.
It takes the death toll in the Republic to 2,052 and the total number of cases to 72,214.
The 14-day rate of the virus is now 92.3 per 100,000 people.
Of the new cases announced this evening, 94 are in Dublin, 41 are in Donegal, 27 are in Wicklow, 14 are in Louth and 13 are in Limerick.
The rest are spread across 20 other counties.
Donegal still has the highest 14-day rate in the country at 219.9 per 100,000 people, with Louth in second at 184.7 and Limerick in third at 166.8.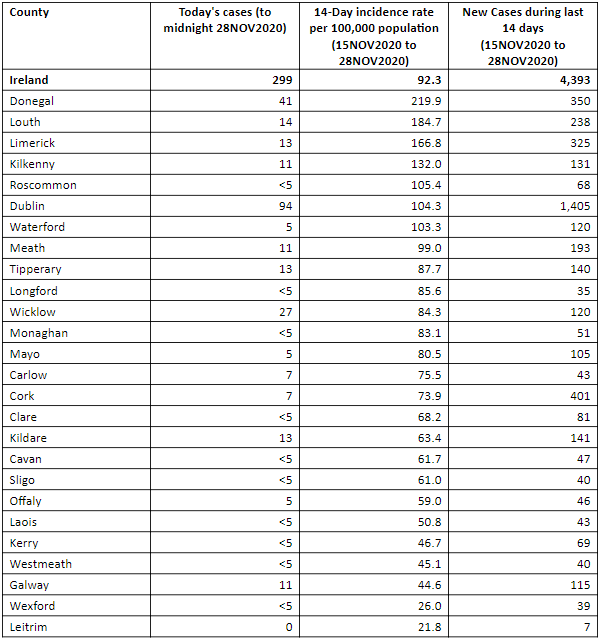 New coronavirus cases per 100,00 people over the past two weeks.
Of the 76,374 cases carried out in the last week, some 2.7% have come back positive.
This afternoon, there were 257 COVID-19 patients in hospital, with 30 in intensive care.
It comes after the Health Minister Stephen Donnelly said coronavirus vaccines could be rolled out around the country "potentially early in the New Year."
He told On the Record with Gavan Reilly that there are no plans to make vaccine mandatory, noting that his "strong preference with it is that it would be voluntary."
The National Vaccine Taskforce is currently preparing for the nationwide rollout of the vaccine – and is due to submit its implementation plan to Government on Friday December 11th.
It is believed officials are aiming to have around one million people vaccinated by spring.
On Newstalk Breakfast this morning, World Health Organisation spokesperson Dr Margaret Harris said plans to have the majority of the country vaccinated by the end of summer are highly ambitious.
"It would be good if it could be done in that time but don't give your Government a hard time if it doesn't happen," she said. "It is the equivalent of a moon-shot."